Aki-chan's Life
"I'm Aki, nice to meet ya!" - Getting to know everyone - 21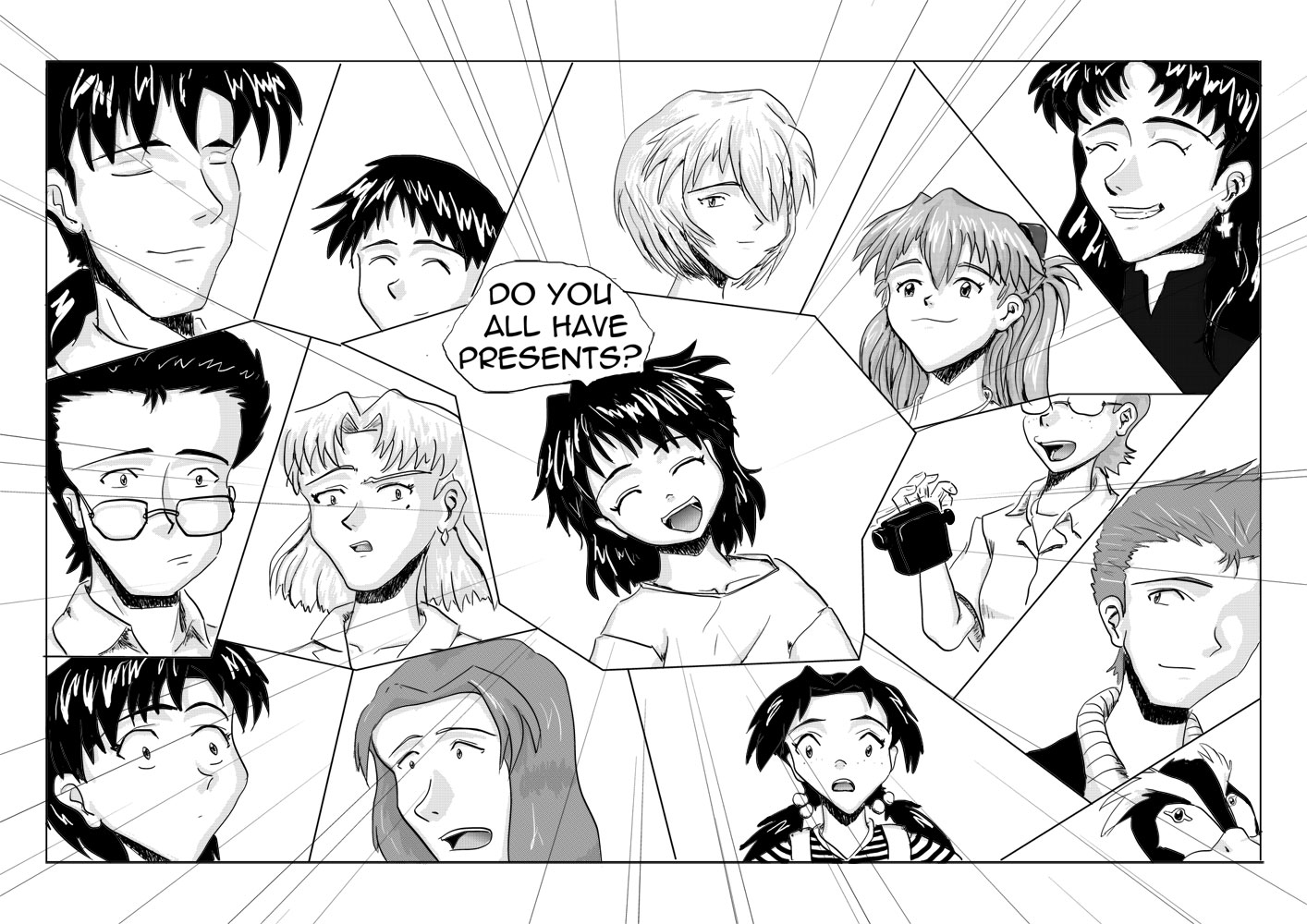 Aw, poor Aki's gonna be in for a disappointment. :(
While I had the idea to combine the party with her birthday pretty early on (had her being "close to four" at the end of T2t already after all, and it shouldn't have been hard for them to count the remaining days, since it had been only one day difference for her), it bothered me a bit all the time that the party would kinda suck as a child's birthday party - guests are mostly adults, decorations etc. not very "childish" (aside maybe from the balloons), and now no presents from most guests! Tried to fix it up a bit, like the skewed paper two pages earlier to hint that she already got a couple of things, but I also missed some opportunities, like Shinji preparing a cake instead of sushi on page 15 (though I had been thinking of editing one in after it came to my mind).

But I guess it's the biggest party she ever had so far, so...

Her acting so shy on the previous pages may seem a bit OOC compared to her behavior in the rest of the comic so far, but I kinda wanted an "end"-ish situation at least once, despite being in the safety of her parents. And when greeting Toji and Hikari, she was actually waiting for Rei and all, and... um...

Anyway, this marks the end of the first chapter. Sure, in theory I could have went on a bit more, showing the party etc, and I still might do so in flashbacks, but in the end, everything important has already been said through Toji and Hikari. And this is a pretty good point to end it IMO. And 20 pages in ~half a year? That's not even too far off from the average doujins, I'd say.

Sadly, I probably will fall behind now. At least I'm not quite sure how I'm going to proceed from here - not so much content, but organization-wise. My original plan was to do an entire chapter in advance from now on, thus giving me more time to work on "my own" pace (with a hoped raise in quality) and to work more on other things in between - which probably would have already resulted in at least one waiting time of T2t-ish dimensions. However, I'm not sure anymore if I could realistically pull that off.
Just after that two week course, I was offered a five week internship that currently leaves me with only about four hours for myself on weekdays (thus these three pages already been delayed again quite a bit). And even if I won't end up working there afterwards as originally intended, I guess the times when I had "too much" time are more or less over. And I'm not sure if I can really expect anyone to wait that long. I know, I know, you're not pushing, yadda yadda, but thinking realistically, I have my doubts how many of you would have such patience, as only few people really stick around that long to remain interested, be it because they simply forget about it eventually (NL/RSS subscription or not), move away from the entire fandom in favor of something else in their life or for whatever other reason. And unlike fanfics, where one can get the attention of new readers by simply updating again, I only have the possibility to advertise this on a handful of boards where only a handful of potential readers are... :/
I really don't intend this first chapter to be the last already. But the question is when the next one will start - in "just" a few weeks, but then me doing page for page againm with probably a much more rushed and less thought-out feel, or who-knows-when and you most definitly having to rely on the subscriptions. I'm open for opinions/suggestions.